Well here it goes this is a write up for the RFID wireless Ignition that I have in both my R6 and Bandit 1200. (A general understanding of electronics is needed) This write up is specifically for an 05 B12 but the general format is applicable to just about any bike(not sure about EFI bikes, should still work in the same manner)This bike has a security wire so it is applicable with many of the newer bikes. Older bikes can omit the security wire section.
Supplies:
2-Automotive Relay switches
11-10kohm resistors
1-on/off switch(I got fancy with one that lit up)
Wire and connectors
A DMM(Digital Multi Meter) is never a bad thing to have in this situation
Stock ignition wire harness:
Locate the loom of wire coming out of the stock ignition. The stock ignition can either be left in and used in parallel with the RFID ignition or completely removed.
This loom will include 6 wires and will look something like below. Ignore the random chunks of patching wire.
Just like in the picture:
RED-Constant 12+ source
Black/White-constant ground
Wires(Orange, Grey, Brown) need a 12V switched source. These turn on gauges initialize system. Bike will turn over with these but will NOT start due to the "security" wire being non asserted.
Orange/Yellow-"Security" wire. This wire needs to be grounded with a ~1K resistor in line. It is important to note that the amount of current will in excess of what normal ¼- 1/6 watt resistors are able to handle. Therefore, the use of multiple resistors in parallel is the best solution for handling the current load. Using 10-11 10k resistors in parallel(twisted together end to end) will give you a ~1k resistance. Also this wire should have at least a switch or relay inline because it will drain your battery constantly if you don't. Not very fast but it will.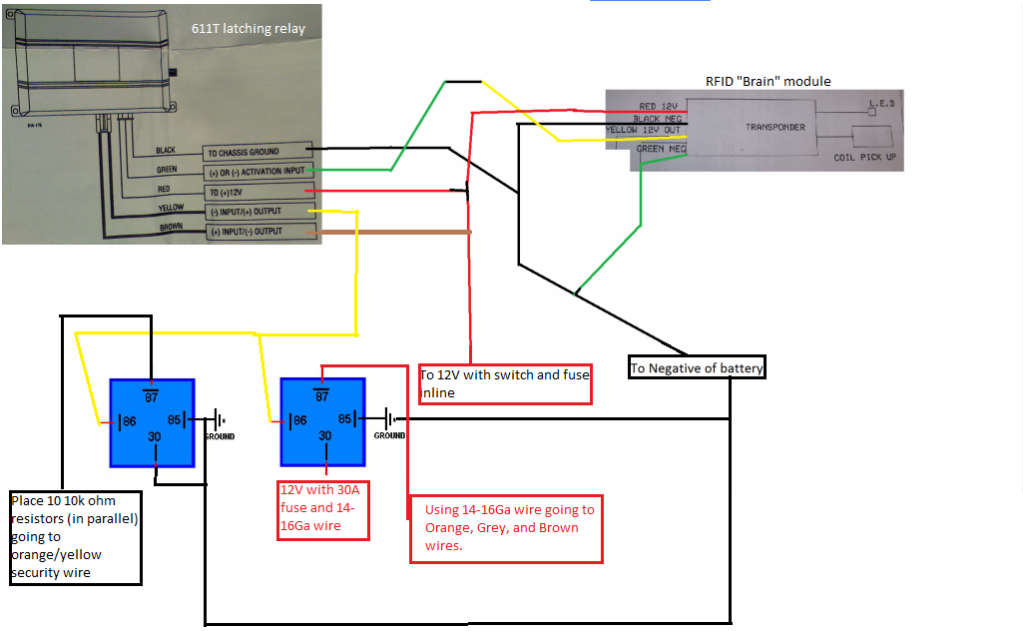 The RIFD "Brain" has three wires that need to be addressed:
•
White(yellow in Picture)-12V Pulse when RFID tag read and identified
This white wire will run to the green "Activation Input" wire on 611T latching relay
•
The Coil pick up can be placed behind plastic(mine is in the tail) just be aware of the range of your RFID device the smaller the chip the smaller the range. For example my implanted RFID chip (1.5x size of a grain of rice) has a range of about .5in. Whereas the included keyfobs have a range of about 1in. Other chips can be used as well including the Credit Card style just make sure they are 125KHz.
The 611T latching relay has 5 wires:
•
Green-(see white wire RFID brain)
•
Yellow-12V output going to the 86 post on the auto relays
The automotive relays:
1st relay (Left in Picture)
•
Post 86-connected to yellow output of 611t
•
Post 87-connect 10 10k ohm resistors in parallel, place this 1k ohm resistor inline and connect it to the orange/yellow security wire.
2nd relay(Right in Picture)
•
Post 86-connected to yellow output of 611t
•
Post 30-using 14-16Ga wire and a 30A fuse go to 12V
•
Post 87-using 14-16Ga wire connect to Orange, Grey, and Brown.
(Note: I linked orange, grey, and brown together then the one wire to the combination of all three)
Placement of the equipment:
I have all of my modules located under the seat. In hindsight I would have rather placed them under the front fairing. Reason being you have to run less wire and you can place the scanner in a more convenient location.
Water-proofing!!!!!!!!!!!!!
I can't stress this enough. Both the RFID Brain and 611T need to be taken apart and sealed and double sealed with silicone. I have fried a couple of units not sealing them up and it renders the "system" useless.
Note: The system can be hotwired by opening the relays and taping the little arm down. If you don't know what I mean open one up and take a look. It will save you if the situation ever arises.
How it all works:
•
To arm the system switch on the 12V supply switch. This provides power to the Brain and 611t.
•
Swipe your RFID device past the scanner
•
Bike will initiate the same as if the key was turned
•
You can kill the bike by first using the kill switch or
•
By swiping the RFID device past the scanner again or
•
Flipping the 12V supply switch
-Killing the bike in this manner leaves a "memory" in the 611t for about 10 sec. Meaning if the switch were re-armed within that time frame the bike will turn on without needing to be swiped.